HOME CARE 24h : Strengthening Competences and Renewing Operations Models
Myller, Henna (2011)
---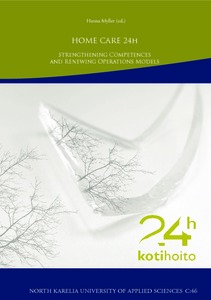 North Karelia University of Applied Sciences
2011
Julkaisun pysyvä osoite on
http://urn.fi/URN:ISBN:978-951-604-131-8
Tiivistelmä
The Developing Round-the-Clock Home Care as a Regional Network Co-operation project was implemented in 2008-2011. It is funded by the European Regional Development Fund through the Regional Council of North Karelia. The municipalities, joint municipality, businesses, organisations, and North Karelia University of Applied Sciences funded the project with their self-financing shares. The project is administered by North Karelia University of Applied Sciences.

The participants in the project are the Joint Municipal Authority for Medical and Social Services in North Karelia; cities of Joensuu, Kitee, Lieksa, and Outokumpu; municipalities of Heinävesi, Ilomantsi, Kontiolahti, and Liperi; private nursing homes Apilarinne and Omena Oy from Ilomantsi, Pikkupiha (co) from Tohmajärvi, Piritta Oy from Joensuu, Kultarinki Hoivapalvelut Oy / Hoitokoti Merilä from Lieksa, Johanneskoti Oy and rehabilitation, training, and housing centre Leväniemen toimintakeskus form Heinävesi, Kanervikkola-koti Oy from Kitee, Tuuliharjun Hoiva Oy (Hyvinvointikeskus Tuuletar) from Uimaharju; night nursing provider Mummon Turva Oy from Joensuu; and North Karelia Fire and Rescue Department. The following organisations participated in the project: Joensuunseudun Omaishoitajat ja Läheiset ry, Pohjois-Karjalan Dementiayhdistys ry and North Karelia Cancer Organization. Perhehoitokoti Mielikki from Joensuu, Lieksan Pietari-apteekki (a pharmacy) from Lieksa, and various nursing and communication technology businesses were a part of the expert co-operation.

The articles in this publication describe the participants' experiences in developing round-theclock home care in North Karelia region from different points of view. The contents comprise themes such as the structural change of social and health care services and its significance to development; hospital-level level home care and introducing intensive home care; the status of rehabilitation now and in the future; terminal treatment at home; technology in home care; and the significance of private businesses and organisations in round-the-clock home care. In addition, training and research co-operation, a student's and a network co-ordinator's experiences of development, and the progress of development and its support processes are presented.
Kokoelmat