Growth dynamics in Arabidopsis thaliana root cambium
Quinlan, Milana (2017)
---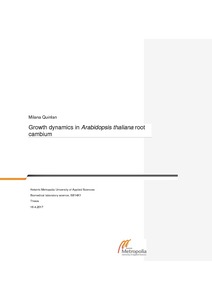 Metropolia Ammattikorkeakoulu
2017
All rights reserved
Julkaisun pysyvä osoite on
http://urn.fi/URN:NBN:fi:amk-201705138022
Tiivistelmä
This work was done in a research group led by Ari Pekka Mähönen. The aim of this thesis was to find out if the Arabidopsis mutant lines under analysis had an altered phenotype compared to the Columbia control, meaning a larger or smaller vasculature width and secondary xylem vessel average. Gus- stained lines with T2 an T3 promoters were analysed to see where the stain would be situated in general and if the stained area was important in secondary root growth. The studied lines were either ordered from the stock centre or made in the laboratory using T-DNA insertion techniques.

The mutant lines were chosen for this study based on previous experiments. In the Re-analysed lines there were 36 candidate mutant lines and in the other experiment 54 lines, which were ordered for this thesis. For the Gus-staining experiment there were several lines; RM9 1-16 which was a T2 selection and T3 selections RM13_16, RM13_13, RM13_8 with lines 1-4. RM13_5 had lines 1-5. These lines have been genetically modified by floral dipping, where the wanted gene was transferred to the plant via an Agrobacterium construct vector.

The roots were grown in sterile conditions and processed to get histological crosscuts which were analysed using the microscope, an image analysis program and Microsoft Excel. The Gus- samples were only analysed visually. The results were compared to our wild type control (Columbia) to find out if the mutants had any significant changes in phenotype. For both the Re-analysed and the 54 lines four interesting mutant lines were found per experiment which might be eligible for further study. In the Re-analysed lines line II had the largest vasculature diameter average compared to Columbia at +33,98 µm. From the 54 lines the highest average was found in sample 6 at +36,6 µm.

In the Gus-staining experiment the stain seemed to be situated in the phloem ball area for the T2 promoter samples and all around the vasculature are for the T3 samples. The T2 promoter genes might be linked to a specific area in the root, whereas the T3 seems to affect the whole vascular area and is more generalized. The results of this work might help narrow down the number of mutant lines to study in this line of research and confirm earlier research results.
Kokoelmat