Vintagetextiliers konservering : samt orsaker till deras försämring
Ekman, Ann-Charlotte (2017)
---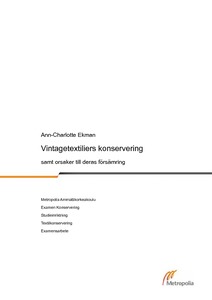 Metropolia Ammattikorkeakoulu
2017
All rights reserved
Julkaisun pysyvä osoite on
http://urn.fi/URN:NBN:fi:amk-2017060812953
Tiivistelmä
Jag har som slutarbete skrivit om konserveringen av vintage textilier. Arbetet började med att en skolkompis frågade om någon av oss i textilkonserveringen, var intresserad av att förbättra skicket på en kuvert väska som hon hade ärvt av sin mormor, så mycket att hon kunde börja använda den. Till en början tänkte jag att det kunde vara ett lämpligt objekt för mitt slutarbete, men det visade sig att väskan var i bättre skick än jag förväntade mig så var jag tvungen att försöka hitta någonting mera som jag kunde inkludera i slutarbetet.
Det visade sig att min skolkompis hade även flera klädesplagg som hon var intresserade av att få konserverad. Av klädesplaggen valdes en grön silkes klänning, eftersom den betydde mycket för henne och den var även en av de äldsta klänningarna som hon ägde.
Alla dessa klädesplagg kommer från Amerika, därav har jag skrivit om Hollywoods inflytande på modet.
Eftersom båda föremålen var vintage, kom jag på rubriken 'Vintagetextiliers konservering' för slutarbetet. Slutarbetet utvidgades lite med att jag bestämde att när jag ändå var i gång så kunde jag även tillverka vadderade klädhängare för en brun klänning som var daterad 1930 – tal, samt en jacka köpt från Guatemala kanske i slutet av 50-talet och en svart ´prom`-klänning daterad ungefär 1950. Skyddspåsar av bomull syddes även för alla fyra plaggen. Jag har inte påträffat tidigare att någon har skrivit om konserveringen av vintage-textilier, detta gjorde att arbete kändes aktuellt, eftersom intresset för vintage har varit stort under de senaste 10 – 15 åren.
Jag läste många källor om ´vintage`-klädernas historia, för att bättre kunna relatera till föremålens ursprung, när jag beskriver de konserveringsmetoder som jag gjorde under arbetets gång. För att kunna konservera ett föremål måste man ta hänsyn till materialens försämring och förändring som har skett under tidens gång och inte låta sig förblindas av hur det eventuellt har sett ut i nytt tillstånd. Jag berättade lite om meningen med konservering, men valde att fördjupa mig mera i hur materialen påverkas av omgivningen och vilka begränsningar som finns när man skall utföra en konserverings åtgärd. Begränsningarna är egentligen den viktigaste orsaken till varför en åtgärd inte kan utföras.
Till slut så skriver jag om konserveringsförfarandet och ett sammandrag om resultatet och om nyupptäckta lösningar som kunde underlätta konserveringen.
As my final thesis, I have written about the conservation of vintage textiles. This work started, when a schoolmate came in to our classroom and asked if anyone of us, was interested take a look at a ´clutch`bag that she had inherit from her grandmother, into a condition so it could be used again. At first I thought that this could be a good object for my final thesis, but instead it turned out to be in a good shape, and that's why I had to try to come up with something more, to include in my final thesis.
It turned out that my schoolmate had even several dresses, that she was interested to get conserved. From the pile of clothes a green silk dress was chosen, because it meant so much for my schoolmate and it was one of the oldest dresses that she had. All these vintage items were from America, that's why I have been written about how the Hollywood made its impact on fashion.
Since, both objects are vintage, I came up with the idea the title ´The conservation of vintage clothing` for the final thesis. I also included the padding of 4 hangers, for a brown dress dated 1930, a jacket from Guatemala dated 1950 and a black prom dress. Garment dust covers of cotton, were even sewn for all four clothes. I havn´t run into a published research about the conservation of vintage textiles, and this made my work more interesting, because people`s interest in vintage clothing have been huge during the last 10 – 15 years.
During this process, I did read about vintage history of clothing, this helped me to relate to the origin of the objects, during the conservation process. To be able to conserve an object, you have to take into consideration the degradation of material and the alteration that has happened during time and not trying to look at how the object were as new. I told a little about the meaning by conservation, but I have chosen to write a little more about the environments impact on the material and the limitations of the treatments. Quite often it happens that, limitations decide, which treatment is chosen before another.
At last I am writing about the conservation treatment for the ´clutch` bag and the green silk dress and a conclusion about the result and suggestion for some new solutions that could make the a better result for a conservation process.
Kokoelmat