Phosphorus Recovery from the Bottom Sediments of a Lake
Timilsina, Hemanta (2018)
---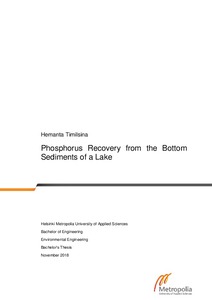 Metropolia Ammattikorkeakoulu
2018
Creative Commons Attribution 3.0 Unported
Julkaisun pysyvä osoite on
http://urn.fi/URN:NBN:fi:amk-2018112818767
Tiivistelmä
Phosphorus (P) is a crucial nutrient to enhance agricultural productivity and a pollutant which impairs water quality of the lake. P losses from various fields such as industrial runoff, surface runoff, agricultural runoff, landfill leachate, runoff from oil fields, mine drainage, construction sites runoff, untreated sewage, runoff from livestock feedlots, runoff from grazing land, atmospheric depositions, septic tank leakage deposit in lake bottom sediments which boost lake eutrophication. Phosphorus extraction from the bottom sediments of a lake is long-term goal of modern society to meet global P demand and restore lake quality. Over exploitation of phosphate rock, a critical raw material can be replaced by recovering P from the lake bottom sediments for both P sustainability and environmental sustainability.

The purpose of this thesis was to find possible techniques to recover P from lakes bottom sediments. Various in situ phosphorus trapping techniques such as phoslock, modified zeolite, alum treatment, calcite, aeration and hypolimnetic withdrawal are discussed. These techniques play a significant role to restore the lakes water quality by reducing internal P-cycling. The qualitative analysis of different P-forms by sequential extraction (SEDEX), P-extraction from sediments by perchloric acid method and ignition method, and comparison of P-recovery from sewage sludge ashes and bottom sediments ashes are discussed.

Bottom sediment is considered as a sink where P is stored. Thus, dredging of the bottom sediments by using mechanical and hydraulic dredgers can help to remove P from lakes. Sediments contain various organic and inorganic contaminants. Sediment treatment techniques and possibilities of using dredged sediments in various sectors are discussed. Disposal of dredged sediments in a landfill is not a sustainable solution. Dredged sediments after treatment can be used as a P-resource. Dredging can be considered as indirect P-recovery.
Kokoelmat