Talent management: Myth or Reality in Today's SMEs : A study into the importance and use of talent management within small and medium-sized enterprises
Baublyte, Daiva (2010)
---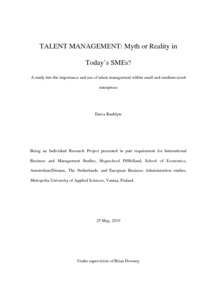 Metropolia Ammattikorkeakoulu
2010
All rights reserved
Julkaisun pysyvä osoite on
http://urn.fi/URN:NBN:fi:amk-2010091012949
Tiivistelmä
This individual research paper is exploring the use of talent management in small and medium size enterprises (SMEs), the goal being to identify whether it is widely practiced and how important it is for the business. SMEs constitute the largest part of markets and thus are very important for countries' economic performance. Unfortunately, there is not a lot of research done into the use of talent management or human resource management in SMEs. In the current knowledge-based economy it is hard to attract and retain top performers (especially for SMEs). Therefore, focus on talent management can help to win the "war for talent".

Three hypotheses have been raised:
1. The smaller the company, the less evolved its HRM (and talent management) procedures are
2. SMEs do not need formalised talent management procedures due to higher degree of flexibility required within their business
3. SMEs focusing on talent management benefit their bottom line

In the theoretical background chapter talent management is explained and important definitions are presented. The definition of talent management used in this research is: talent management is the additional management processes and opportunities that are made available to people in the organisation who are considered to be 'talent'.

In order to answer the hypotheses raised, key issues were identified and analysed with the help of secondary research. It was found that SMEs do identify the value and importance of managing their talent, especially within today's economic environment, but it is often done informally. However, the bigger the company, the more formal their HR procedures tend to be (medium sized companies might have an HR department or manager, whereas most of micro and small companies do not). The HR strategies are more emergent rather than deliberate due to higher level uncertainty experienced in the market environment as compared to large scale enterprises (LSEs). It is clear that the owner of the company plays a much bigger role in forming HRM strategies and they are greatly influenced by different individual factors, such as management and HRM knowledge of the owner, attitudes towards employees and talent management, and leadership style.

In chapter 7 the profitability of talent management in SMEs is analysed. It was concluded that it has a positive effect on innovativeness, labour productivity and profitability in SMEs. Furthermore, it helps managers to create sustainable competitive advantage and plan, motivate, and retain their talent pool.

Finally, this research deduces that talent management is a reality within small and medium-sized enterprises, even though it is done more informally than in large scale enterprises. The first and second hypotheses are found to be connected and both were partly supported by the research. Companies do tend to be more informal while they are small (up to 50 employees), however, medium enterprises show a shift towards formal talent management procedures. Therefore, depending on the size of the company, formal talent management procedures are not always required. This can be linked to increased difficulty to manage a larger talent pool and different levels of uncertainty within the market environment experienced by companies of varied sizes. The third hypothesis is fully supported and the benefits of using talent management in SMEs are proved.

The last chapter is recommending SMEs to adopt talent management procedures. Managers are suggested to take management and HRM training in order to realise the benefits of talent management. In addition, large enterprises are encouraged to take an example from SMEs in developing closer relationships with employees and simulate their work environment, i.e. "think global, but act local".
Kokoelmat