Computer Vision Deployment on Edge Devices
Nguyen Hoang, Anh Minh (2019)
---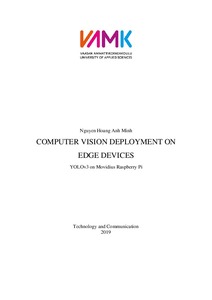 2019
Julkaisun pysyvä osoite on
http://urn.fi/URN:NBN:fi:amk-2019103120519
Tiivistelmä
Artificial intelligence has been receiving tremendous progress in the past recent years thanks to the advancement of technology. Nowadays it is the most active field of RnD with huge resources and efforts to further it fast forwards. Uncountable varieties of ap-plications are leveraging its capabilities to solve problems that were impossible to tackle before. However, most of the artificial intelligence application systems developed at the moment require desktop or server class of computing power to run on and hence, being able to scale these systems to more resource restricted devices is highly desirable and would pave the path to many intelligent solutions. As the technology community is very sensitive and is sharing the same vision, major organisations are quickly coming in with supports of their products to provide solutions for the development of relating ideas. Among many of those solutions, one is the popular hardware series offered by Intel, the Movidius Neural Compute Stick for computation acceleration of deep learning at infer-ence.

Since new technology are always based on other advancements, the Movidius is not an exception. It supports most of the famous open source machine learning frameworks and among which, the TensorFlow libraries, developed by Google is increasing adopted by the machine learning community and is also the developers' and scientists' favourite. You Only Look Once (YOLO) is a state-of-the-art object detecting system capable of real-time processing at extremely high accuracy. It is created in the DarkNet framework with limited scalability across different platforms but rather for just researching.

This work is attempting to enable a Raspberry Pi, aided by the Movidius Neural Com-pute Stick hardware to run the latest YOLO application. In the results, the TensorFlow of YOLOv3 were created and reetained the original accuracy while maintaining real-time performance on a laptop setup. On the Raspberry Pi, it was able to preserve the original accuracy with trade-off to some real-time performance.
Kokoelmat