Marketing Plan For Kesko To Enter The Chinese Market
Zhu, Xiaoqing (2020)
---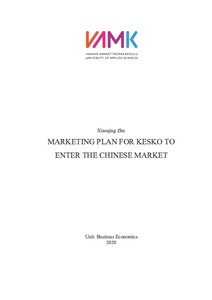 2020
All rights reserved. This publication is copyrighted. You may download, display and print it for Your own personal use. Commercial use is prohibited.
Julkaisun pysyvä osoite on
http://urn.fi/URN:NBN:fi:amk-202002052085
Tiivistelmä
The cooperation between the West and the East has become increasingly intense. Owing to the special location of Finland, it has always been acting as a "connecter" of the West and the East. Numerous major Finnish companies tend to expand their business to China due to the huge market potential. This thesis studied about one of the biggest Finnish retailing conglomerates Kesko and a marketing plan for Kesko to enter the Chinese market is conducted.
In the modern market economy environment, companies have to pay attention to the vital role played by marketing in the development of enterprises. The market is the battlefield for the enterprise. Due to the fierce market competition, enterprises must respond to market changes in a timely manner. Therefore, a market oriented operation and operation mechanism must be established to make the enterprise invincible. In order to operate further in the Chinese market, a comprehensive marketing plan would be highly beneficial for Kesko's future development in China. As agreed with Hanna Jaakkola, the Vice President in Investor Relations for Kesko, the author is allowed to use Kesko's name in this thesis.
The qualitative research and quantitative research methodologies are applied in this thesis. The qualitative research methodology is used in analyzing the CFDA questionnaire results. The results for Chinese consumers' attitude towards foreign foods are already presented and studied by CFDA. The author is able to study the findings and use the findings as a reference to support the second self-designed questionnaire.
The quantitative research is mainly applied in the self-designed questionnaire data analysis. When processing and analyzing these numbers, the scales on which these information materials are measured and processed are firstly determined. The results are represented in numbers, charts and graphs to demonstrate and study the findings. Based on the findings, a series of marketing strategies are designed for certain social phenomenon and market trends. A complete marketing plan is able to be implemented for Kesko's further development in China.
The main theoretical framework is partly based on previous studies and researches, while a great quantity of related material is also widely adopted in order to support the theoretical framework. The empirical study is based on two questionnaires analysis, a PESTEL analysis of the Chinese market, A SWOT analysis of Kesko, consumers and competitor analysis, followed by a final marketing plan with STP strategies, marketing mix strategy and marketing strategies. The conclusion part not only presents the findings of this research, but also provides suggestions for Kesko in its further development, in addition, it is also used as a reference for other companies to enter the Chinese market in the future.
Chinese consumers' opinions towards Finnish food are highly positive, hence the potential for Kesko is enormous. The positive relationship between customers and Kesko is particularly important. Kesko ought to intensively communicate with
customers, always think from customers' perspectives and understand consumers from all kinds of aspects. Marketing strategies for Kesko should change according to the changing market situation, for instance, the new e-commerce trend and internet enabled Chinese consumers to shop online and gather information from social medias. Kesko's marketing strategies should focus on more modern way of marketing such as social media marketing.
Kesko also needs to follow the Chinese market trends intensively, and always be ready to make changes accordingly. At the same time, Kesko should also focus on innovation especially on product differentiation such as lactose free products to attract Chinese consumers, in order to stand out from its competitors. In addition, Kesko needs to develop and implement more interactive experience marketing strategies to make its potential consumers feel unique and special. Hence, consumer loyalty and brand recognition would be greatly improved.
Kokoelmat