Institutional viewpoint on university selection as a buyer decision process: Marketing and information channels, institutional factors and image of a case study university
Moisio, Juhani (2020)
---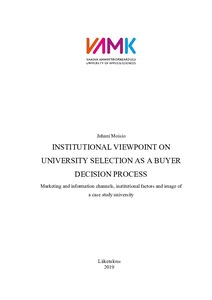 2020
All rights reserved. This publication is copyrighted. You may download, display and print it for Your own personal use. Commercial use is prohibited.
Julkaisun pysyvä osoite on
http://urn.fi/URN:NBN:fi:amk-202004034459
Tiivistelmä
Tutkimuksen lähtökohtana oli tehdä hakija-analyysi Vaasan yliopiston kansainvälisille
maisteriohjelmille. Työn tarkoituksena oli selvittää missä hakijat kuulivat yliopistosta ja kuinka tärkeitä tietyt lähteet olivat lisätiedon saamisessa. Lisäksi
haluttiin selvittää eri institutionaalisten tekijöiden tärkeyttä Vaasan yliopistoon
hakeutumisessa sekä hakijoiden mielikuvaa yliopistosta.
Teoreettisena viitekehyksenä käytettiin kuluttaja- ja ostokäyttäytymistä, markkinointiviestintää sekä mielikuvaa. Näitä täydennettiin aikaisemmilla, erityisesti
korkeakoulutukseen, liittyvillä tutkimuksilla ja niiden tuloksilla. Myös viimeaikaisia kansallisia selvityksiä kansainvälisten opiskelijoiden hakeutumisesta suomalaisiin korkeakouluihin ja korkeakoulujen kansainvälisestä hakijamarkkinoinnista
hyödynnettiin.
Tutkimusmenetelmänä toimi kvantitatiivinen kohderyhmäkysely. Keväällä 2019 sähköinen kysely lähetettiin kaikille kansainvälisiin maisteriohjelmiin hakeneille
ja markkinointiluvan antaneille hakijoille. Vastauksia saatiin 164 kappaletta, joita tarkasteltiin eri taustatekijöiden valossa.
Kaikkien hakijoiden vastauksia katsottaessa markkinointikanavista yliopiston hallinnoimat ulkoinen palvelu A sekä kansallinen opintopolku.fi olivat valituimmat kanavat näkyvyydelle, ja lisätiedon lähteenä yliopiston www-sivut arvioitiin tärkeimmäksi.
Koulutusohjelmien piirteet sekä opetuksen laatu olivat tärkeimmät
institutionaaliset syyt hakeutua Vaasan yliopistoon. Hakijoiden mielikuvissa korostuivat
sanat koulutus, tutkimus, opiskelu, mutta myös sanat laatu ja kansainvälisyys, sekä adjektiivit hyvä, paras, mahtava ja ystävällinen.
Tutkimustulokset ovat linjassa esitettyjen teorioiden ja aikaisempien tutkimusten
tulosten sekä selvitysten kanssa. Lisäksi hakijoiden mielikuvat vastaavat hakijamarkkinoinnissa välitettävään imagoon. Eri taustatekijöitä tarkasteltaessa saadaan yksityiskohtaisempaa dataa, jota voidaan hyödyntää mahdollisesti kohdennetumpaa
hakijamarkkinointia tehtäessä.
The purpose of the study was an applicant analysis on the applicants to the international
Master's degree programmes of the University of Vaasa. The aim was to
find out where the applicants heard about the university and how important where
the various channels in finding more information. In addition, the importance of
various institutional factors in applying to the university as well as the image of
the applicants for the university were examined.
The theoretical framework consisted of buyer decision process, marketing communication
and image. These were supplemented by previous studies and their
results relating to higher education. Also, recent national surveys on international
applicants to Finnish higher education institutions and international recruitment in
Finnish universities were utilised.
The research method was a quantitative focus group survey. Spring 2019 an electronic
questionnaire was sent to the applicants who had agreed to marketing purposes.
164 answers were gathered and examined by various background variables
When examining all the responses the university-controlled marketing and information
channels of service provider A and the national information and application
service Studyinfo.fi were the most selected channels regarding visibility, and
the website was the most important source for further information. The programme
characteristics and the quality of education were the most important institutional
reasons for applying to the University of Vaasa. Regarding the image of
the University of Vaasa, the education, research and studies are prominent words,
as well as concepts of quality and internationalisation and adjectives such as good,
great, best and friendly.
The findings are in line with the theories presented and with results of the earlier
studies and surveys. In addition, the images the applicants had of the university
correspond to the image conveyed in student recruitment. When looking at the
various background variables more detailed data can be gained, that can be utilised
when possibly doing more targeted student recruitment.
Kokoelmat