Entrepreneurs caring for the elderly: Perspectives from Finland and China : An exploratory study between Finland and China
WEI, JINQI (2021)
---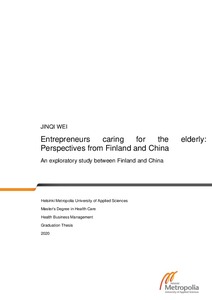 2021
All rights reserved. This publication is copyrighted. You may download, display and print it for Your own personal use. Commercial use is prohibited.
Julkaisun pysyvä osoite on
https://urn.fi/URN:NBN:fi:amk-202102051972
Tiivistelmä
This thesis provides an exploratory study of the motivations and confronted challenges of entrepreneurs in the homecare sector within Finnish and Chinese contexts. Specially, through a literature review and in-depth interviews. This thesis has considered concepts such as entrepreneurship, homecare model and service, and the health systems of China and Finland. Drawing from the entrepreneurs´ perspectives, this thesis highlights motivations and potential challenges faced in the homecare sector to highlight findings for future entrepreneurs in homecare as well as potential research.
The purpose is to explore the perceptions of entrepreneurs in Finland and China in the healthcare field specialized in homecare sector and to yield insights, vision and inspirations for entrepreneurs, leaders and researchers. Specifically, the thesis examines the entrepreneurs´ perceptions regarding motivations and challenges within home care entrepreneurship.
Findings: The motivational factors include intrinsic and extrinsic factors. Intrinsic factors consist of self-achievement, interest exploration, working experience-based decision and family ties. Extrinsic factors consist of market driven and stimulation, social pressure, economic incentive, ethnicity and sexuality, budgeting consideration, working environment and style, profit pursuit, social influence, government encouragement and macro-control.
The challenging factors include intrinsic and extrinsic factors as well. The intrinsic factors include attitude, general awareness, incomplete trust foundations, language, cultural background, lack of experiences, education and time management. Extrinsic challenges include human resource, incomplete regulations, legislation and policies, business management, improvement of working system, safety control, payment capacity, team building, customers accumulation, business operating skills, social environment, insurance coverage, weather, and business environment.
Conclusion: In regard to motivations, Finnish homecare entrepreneurs are more motivated by intrinsic factors such as self-achievement, comparatively, Chinese homecare entrepreneurs are more motived by extrinsic factors such as market-driven, government interventions. In perspective of challenging factors, Finnish homecare is facing tremendous shortage of competent and qualified homecare workers, weather and managerial challenges. Whereas, Chinese homecare is facing more platform building, trust foundation building, general awareness promotion, homecare professionals´ education and professional enhancement, government support, and insurance coverage. The Finnish homecare system is more developed and structural complete than Chinese homecare system; another word is Finnish homecare network is developed, comparatively, Chinese homecare network is under-developed, creating more challenges for the entrepreneur to provide home care services. Chinese government needs to assert more effort to promote the development of homecare industry, thereby, to ensure elder/disabled care.
Kokoelmat