International Strategic Alliance Model : - A study of a Finnish construction company, Fira Oy, entering a new market.
Ruissalo, Stella (2011)
---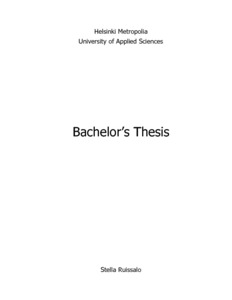 Metropolia Ammattikorkeakoulu
2011
All rights reserved
Julkaisun pysyvä osoite on
http://urn.fi/URN:NBN:fi:amk-2011081912631
Tiivistelmä
Strategic alliance is considered today as a natural and common alternative to employ when a firm plans to enter a new market with a stable and secure basis. In fact strategic alliance is more preferred entry option compared to acquisitions around the world across all industries. In alliances, like in all international operations there are risks, however many theorists as well as companies have understood the value of operating with a partner.

Fira Oy (further referred to as 'Fira'), a construction firm in Finland has realised the potential in new markets and has decided to execute this prospect through strategic alliance with a local partner. Fira has done market research particularly in the Swedish market. It is a usual path for a Finnish company to expand its operations into the neighbouring economy.

Alliances have been studied theoretically and practically for years, yet still no clear model for success exists. This research ties the theoretical points of view with practise together to advice Fira in entering a new market through strategic alliance.

The framework for the research is organised in the following manner: Different theoretical strategic alliance modes are compared to find the most suitable for Fira and its operations. The second part of the research is to construct a partner profile by analysing the strategic and cultural characteristics of Fira. A cultural analysis is conducted to show the viewpoint of the employees toward Fira's company culture. From the results a partner culture fitting Fira is identified.

The profile includes the strategic goals as well as the strategic capabilities the partner has to have. The strategic capabilities are discovered through a value chain analysis. Furthermore, the complementary capabilities to be performed by the partner for the alliance are determined.

The final part of this research is risk in alliances. As mentioned above, there is risk in all international operations. In alliances companies often think it is reduced by half since the partner is responsible for half of the risk. However, risks often increase in other operational and environmental elements, making the risk factor one of the most significant factors to be considered when entering an alliance.

The objective of this research is to construct a strategic alliance model for Fira, a construction business entering the Swedish market. The framework forms a basis for any international strategic alliance Fira considers to join in the future.
Kokoelmat