Societas Europea – The new European Company : The one fits all Model, facilitating European Trade?
Winter, Michaela (2009)
---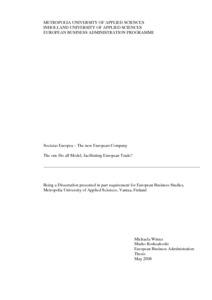 Metropolia Ammattikorkeakoulu
2009
Julkaisun pysyvä osoite on
http://urn.fi/URN:NBN:fi:amk-200909094400
Tiivistelmä
The purpose of the thesis was to investigate the new European corporate model, the so called Societas Europaea (SE). The objective of this work was to answer whether the new corporate system can fulfil its purpose to facilitate trade within Europe and whether the European Commission was able to create one uniform, supranational model that serves the needs of all European member states.

Mainly secondary research was applied, using books, journals and other publications. However, it was also aimed to conduct qualitative research in form of questionnaires to identify experience of firm that have established a European Company. Unfortunately, no replies were received and therefore, press releases and existing case studies were used.

The results of the study revealed numerous advantages and disadvantages of the European Company. Major benefits are the creation of a European mindset and harmonisation of business operations, as well as unlimited ability to move the domicile of the company and cost saving through lower administrative burdens. Deficits are in regard to the lack of unification of the regulation, resulting in a different implementation in each member state, as well as the reference to national laws for certain legal matters, such as taxation. Findings also indicated that worker involvement is a highly problematic issue, and appears to be reason why the SE is accepted and dispersed so unequal in the European countries.

To this end, findings proved that basic ideas of the SE offer good grounds for business activities and facilitate trade within the European Union and therefore a respectable number of firms have chosen to adopt this corporate structure. On the other hand, there is still strong need for improvement to make this corporate form more attractive in all member states and to further harmonise the statute.
Kokoelmat