Synthesis of single and mixed metal oxides for VOCs oxidation
Chen, Xuemeng (2012)
---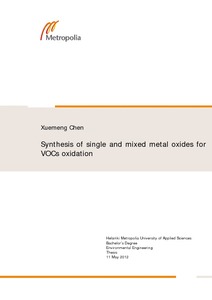 Metropolia Ammattikorkeakoulu
2012
All rights reserved
Julkaisun pysyvä osoite on
http://urn.fi/URN:NBN:fi:amk-201205117672
Tiivistelmä
Volatile organic compounds (VOCs) are important environmental pollutants that can originate from petroleum refineries, fuel storage and loading procedures, painting and printing operations, and motor vehicles. These compounds usually have high vapor pressure, and therefore, easily appear in gaseous form at ambient temperature and atmospheric pressure. In many sectors of industry and traffic, VOCs are regulated to prevent ozone depletion and smog formation; moreover, some of them are also carcinogenic and malodorous. Conventional thermal oxidation requires high operation temperatures (650 to 1100 ºC), whereas catalytic oxidation can lower the temperature range to around 250-500 ºC and causes less NOx formation. Therefore, catalytic oxidation is a more energy-efficient and environmentally friendly technology for VOC abatement.
The purpose of this thesis project is to prepare metal oxides for the catalytic oxidation of VOCs. Single and mixed oxides were prepared by the exotemplating method (EX). Two carbon materials, carbon xerogel (CX) prepared by a method described in literature and commercial activated carbon NORIT ROX 0.8 (CROX), were used as templates in the synthesis of copper, iron and nickel oxides. Several zinc, magnesium and lanthanum oxides were made by EX as well, but showed relatively low catalytic activities. The thermal evaporation method (EM) was used for the synthesis of mixed oxides. Also some attempts to prepare materials with perovskite structures were made, by using the glycine-nitrate process (GNP) and a combination of GNP with EX. All synthesized samples were characterized by thermogravimetry and differential scanning calorimetry, N2 adsorption and temperature programmed reduction. Selected samples were analyzed by X-ray diffraction (XRD). The materials obtained were tested for oxidation of VOCs (ethyl acetate and toluene). Also a series of gold nanoparticle doped oxides, along with the corresponding commercial oxide supports, were tested in the oxidation of ethyl acetate.
CX templated CuO showed the best performance among all tested single oxides. Large improvements were found upon gold addition to NiO and Y2O3, in comparison to the respective commercial oxides. In mixed oxides, Ce-Co samples showed the highest activity for VOCs oxidation. Ce-Cu and La-Co materials also had good catalytic performances.
Kokoelmat