IPv6 Implementation, Firewall and Redundancy
Banstola, Bijay (2012)
---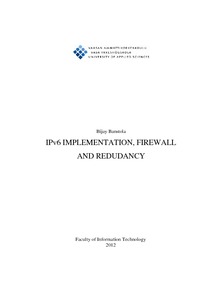 Vaasan ammattikorkeakoulu
2012
All rights reserved
Julkaisun pysyvä osoite on
http://urn.fi/URN:NBN:fi:amk-2012091313630
Tiivistelmä
The project was inspired by the fact that the last block of IPv4 address has been already assigned and the need of more address for further development in the field of Internet applications. Thus new Internet protocol was developed, IP next generation (IPng), now known as IPv6, Internet Protocol Version 6 which was proposed on early 1990s as a successor of IPv4. In the process of transition it is very important that the functions running over IPv4 must not be affected so these two protocols must run together and independently. So at the time being Dual Stack mode is preferred i.e. host running both protocols.
The goal of the project was to implement secure redundant IPv6 network in Vaasan Ammattikorkeakoulu (VAMK) which was achieved by configuring a pair of Dell PCs to act as gateway router together with firewall, DNS and DHCPv6 functions and are redundant to each other. FreeBSD 9.0 release was installed on those PCs. The firewall policy was to pass secure connections only which was achieved by using FreeBSD"s default firewall, PF firewall. Redundancy was achieved re-configuring a pair of routers with CARP and pfsync functions included. The system was tested on VAMK"s Information Technology department and the goal was achieved successfully.
This project covers the implementation of IPv6, Firewall and Redundancy. A complete new set of Firewall rules were implemented for IPv6 since firewall policy for IPv4 will not work for IPv6. After the completion of the project the campus have running IPv6 network and all the host and servers are dual stacked.
Kokoelmat