Dewatering and recovery of fats, oils and grease (FOG) of grease trap waste : A design-research of a new-built process
Van Der Veen, Sandra (2013)
---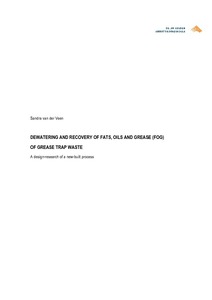 Oulun seudun ammattikorkeakoulu
2013
All rights reserved
Julkaisun pysyvä osoite on
http://urn.fi/URN:NBN:fi:amk-2013120219493
Tiivistelmä
This thesis is a design science research study about the development of a process to dewater waste collected from grease traps (GTW). Grease traps are installed in professional kitchens and at food manufacturing sites to protect the sewage works from grease waste that can clog the sewer system and disrupt the biological treatment at wastewater treatments plants (WWTP). When traps are emptied hot water is used to clean the units. Therefore GTW can contain up to 99% water. During 2008-2009, the waste centres and WWTPs in the Oulu and Kainuu regions in Finland collected 6.6 kg GTW per capita annually.

GTW consists of water, partly hydrolyzed fats, oils and greases (FOG), food residues, and other contaminants as soap and metals. The grease is emulsified throughout the water phase and mixed with solids, which makes it difficult to dewater. Dewatering is important as is decreases the amount for waste disposal, which is expensive as GTW is classified as special waste. Additionally, the upcoming legalisation in 2016 forbids disposal of organic waste to landfills and therefore cost-effective alternatives have to be found.

A fairly simple process was designed to dewater GTW by using acid hydrolysis and moderate heating (65-70°C). The process was tested first on laboratory scale from where it was step-wise scaled up. In 2012, the process design was tested and evaluated by a pilot plant. The goal was to gather as much information and experiences as possible, in order to improve the process products' quality and the overall process efficiency for the next production design. The profitability of the design was tested by comparing estimated profit margins in different scenarios. The study contains also an overview of possible technologies to utilise or dispose the dewatered fraction (also called brown grease) resulting from the process.

The conclusion of the study is that the designed dewatering process is profitable when used at full operating capacity (3000 t/a) and a dewatering efficiency of at least 75%. In this case the estimated payback time is 3-6 years from start-up. The plant was not suitable for extended dewatering of the FOG fraction. An own unit is needed for this purpose. Otherwise, reuse alternatives should be search that can deal with the remaining water content, such as biogas production or utilisation as steam boiler fuel or low-grade soaps. The test design still needs technical adjustments before it can be taken in use. Further research is needed to find a solution how to destabilize the intermediate layer of organics, light solids and water formed between the FOG and water phase (rag layer). For the moment, the fraction remains a non-valuable waste.
Kokoelmat