RSSI-based Indoor Localization System
Laekemariam, Birhanu Hailemariam (2012)
---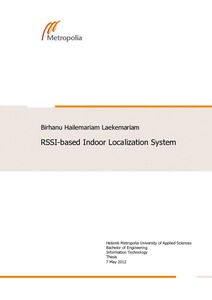 Laekemariam, Birhanu Hailemariam
Metropolia Ammattikorkeakoulu
2012
All rights reserved
Julkaisun pysyvä osoite on
http://urn.fi/URN:NBN:fi:amk-201401231659
Tiivistelmä
This bachelor's thesis describes a research towards the system that is capable of locating a target object in indoor environment using the existing Wireless Fidelity (WiFi) infrastructures in the environment. Location aware computing service implemented in this project plays a significant role in the areas of navigation, security, market analysis, social behavior and activity studies, healthcare and entertainment. Furthermore, pragmatic predication of the upcoming movements and activities could be derived by extracting and analyzing the previously recorded movement data.

The sensor reading used for the location estimation is the Received Signal Strength Indication (RSSI) measured from the Access Points (APs). RSSI sample maps were collected from each room and common area in the building from which a database index containing an associative array was built. The associative array is composed of a collection of 'key-value' pairs; where the name of the room or common area in which the RSSI sample map was collected makes the 'key' pair and the RSSI values on the sample map make the 'value' pair. The location estimation process was carried out using similarity query techniques that is capable of finding the most similar vector index in the database index to the query vector built from the RSSI request of the target object.

The current version of the localization system is capable of locating a target object with room level accuracy with few random error results. In addition, the localization system records the target object's location-related information to a log file, from which movement and indoor activity analysis was able to be derived. Since the overall design and implementation of the localization system is intended to follow a framework-oriented approach, the final version of the product could be adapted to a new environment in accordance with the latest specifications and requirements.