Cultivating Algae in a Photobioreactor : CO2 fixation, synthetic wastewater nutrient removal and biomass production using the green algae species Chlorella pyrenoidosa
Svaldenis, Arnas (2014)
---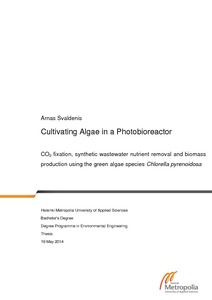 Metropolia Ammattikorkeakoulu
2014
Creative Commons Attribution 3.0 Unported
Julkaisun pysyvä osoite on
http://urn.fi/URN:NBN:fi:amk-201405229255
Tiivistelmä
The most common way of producing energy worldwide is by utilizing fossil fuels, a finite resource that is diminishing rapidly. Many developing countries have various problems with their waste disposal practices and treating their wastewater. Persistent power outages in the power distribution network add to the problems. In most cases power is generated by burning coal, the dirtiest of fossil fuels, which emits flue gases into the atmosphere. By utilizing algae, a photosynthetic microorganism, it is possible to scrub heavy metals and CO2 from the flue gases. Algae can also absorb various nutrients found in wastewater and convert them into useful by-products. We are experiencing a shift from humanity trying to dominate nature to humanity trying to preserve parts of nature and now trying to reach reconciliation with nature. Ever increasing pollution, population and demands for clean water and energy are issues of vital importance in today's global environment.
This thesis project investigates wastewater nutrient removal with carbon dioxide capture using microalgae. It also proposes a way to maintain a carbon neutral loop and utilization of waste products to produce biomass and biofuels. Algae provide an efficient way to prevent waste and pollution by utilizing resources efficiently, keeping majority of resources in a closed loop cycle. The aim of this project was to create a model bioreactor which showcases the concept. For this purpose a small scale photobioreactor was built under laboratory conditions.
A photobioreactor is a closed system which provides a controlled environment and enables high productivity of algae. Pure CO2 and synthetic wastewater were used to model flue gas and actual wastewater conditions. This way the bioreactor resembles the actual large scale process without posing a risk of process interference. When tested, the bioreactor exhibited promising results for synthetic wastewater nutrient removal. In subsequent studies investigations or a proof of concept phase it would be necessary to use real wastewater and industrial CO2 sources. Ideally, this system would run fully automated on solar energy. This would be extremely useful to developing countries that rely heavily on energy from diesel and have no sufficient wastewater treatment facilities.
Kokoelmat