Ibland känns det som envägskommunikation : BVC-sköterskans syn på samverkan med socialtjänsten med fokus på anmälningsskyldigheten
Hakovainio, Marie-Louise; Wennberg, Anita (2009)
---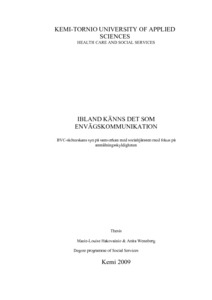 Hakovainio, Marie-Louise
Wennberg, Anita
Kemi-Tornion ammattikorkeakoulu Lapin ammattikorkeakoulu
2009
All rights reserved
Julkaisun pysyvä osoite on
http://urn.fi/URN:NBN:fi:amk-201002252548
Tiivistelmä
Syftet med studien är att undersöka hur BVC-sköterskor ser på samverkan med socialtjänsten med fokus på anmälningsskyldigheten. Samverkan mellan olika professioner som kommer i kontakt med barn som misstänks fara illa har blivit ett allt mer angeläget och diskuterat ämne. Anmälningsskyldighet är i dag lagstadgad och har kommit till för att socialnämnden är beroende av information från dem som träffar barn inom sin yrkesmässiga verksamhet för att kunna utföra sin uppgift. Anmälningsskyldigheten är en stor del i den samverkan BVC-sköterskor har med socialtjänsten.
Studien har en kvalitativ ansats där empirin består av tre ostrukturerade intervjuer med BVC-sköterskor, alla med lång erfarenhet inom sitt yrke. De teoretiska perspektiv som använts för att analysera det insamlade och bearbetade materialet är olika teorier om samverkan, samt nätverksteorin. Vi har även använt oss av lagar och tidigare forskning som är relevanta för vårt valda ämne.
Det framkommer i vår studie att BVC-sköterskorna är medvetna och har kunskap om anmälningsskyldigheten, det känner ingen tveksamhet inför att göra en anmälan. Det de däremot upplever är rädslan för att förlora kontakten med familjen som berörs av anmälan. Sekretessen styr informationsutbytet mellan verksamheterna och de upplever en envägskommunikation. BVC-sköterskorna saknar ofta återkoppling från socialtjänsten och sekretessen upplevs som ett hinder i samverkan. Fungerande kommunikation visade sig central för att samverkan ska fungera.
The purpose of this study is to investigate how child health service nurses perceive cooperation with the social services with focus on review obligation. Cooperation between different professionals who are in contact with children and suspect the child gets hurt has become a more and more urgent and argued subject of discussion debate subject. Review obligation is today statutory. The law is needed because the social welfare board needs information from other social services to perform their work. Review obligation plays an important role in the cooperation between BVC-nurses and social services.
This study has been based on qualitative research methodology where empirical endure of tree unstructured interview whit child health service nurses, all of them have long experience of the job. The theoretical perspective what has been used to analyse the composed worked material is various theories about cooperation and networktheories. We have also used laws and previous research what is relevant in this study.
The results of this study show that our interviewed nurses are aware and have good knowledge about reviews obligation, they don't feel hesitant to review. Nurses however feels fear losing contact whit the family ho get report. Official secrets legislation rule exchange information between organizations and feelings about one way communication. Child health care nurses lack feedback from social services and official secrets feels like a hindrance to development. A functioning communication has to be central to get cooperation work.
Keywords: cooperation, review obligation, feedback, child health service
Kokoelmat