Guide of competence and knowledge management
Sihvo, Päivi; Puhakka, Arttu; Väyrynen, Katja (2014)
---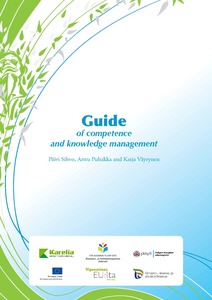 Sihvo, Päivi
Puhakka, Arttu
Väyrynen, Katja
Karelia University of Applied Sciences
2014
Julkaisun pysyvä osoite on
http://urn.fi/URN:ISBN:978-952-275-136-2
Lähdeviite:
Sihvo P., Puhakka A., Väyrynen K., (2014). Guide of competence and knowledge management. , Karelia University of Applied Sciences.
URN:ISBN:978-952-275-136-2
Tiivistelmä
The eOSMO project was carried out in North Karelia in 2009-2011. The aim of the project was to develop knowledge management in the involved organisations. As a result of development work, different tools for knowledge management were created, which were compiled as the guide of knowledge management. The guide was drawn up to support knowledge management and leadership as well as development work in different fields and in companies of a different size.

The guide at hand introducing a short course to knowledge management is designed for all of you that are interested in developing knowledge management and leadership. The aim of the guide is to help the reader develop knowledge management and leadership in his/her own organisation. With the instructions and examples described in the guide, it is possible to create a model and tools for knowledge management in each organisation.

The original guide was in Finnish. This version in English is a summary of the original guide. The translation has been carried out in the Sis Catalyst project funded by the European Commission. The project is administered by Karelia University of Applied Sciences.
Kokoelmat