Företagssanering : Lösning på ett företags ekonomiska problem?
Kronqvist, Veronica (2015)
---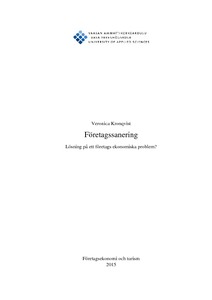 Vaasan ammattikorkeakoulu
2015
All rights reserved
Julkaisun pysyvä osoite on
http://urn.fi/URN:NBN:fi:amk-201501301776
Tiivistelmä
Sedan år 2008 har antalet företagssaneringar nästan fördubblats i Finland. Detta lärdomsprov ska ge läsaren en inblick i, vad som ligger bakom en företagssanering, hur en företagssanering går till och hurudana företag som är lämpliga för en företagssanering. Målet är att komma fram till när en företagssanering är ett bra alter-nativ som lösning på ett företags problem, och vad som påverkar om företagets sanering lyckas eller inte. I teoridelen beskrivs vad som är utmärkande för insolventa företag, företagssaneringsprocessens olika skeden och vad ett företagssaneringsprogram ska innehålla. Även sådant som enligt teorin påverkar företagssaneringens utgång tas upp. Den empiriska delen består av två intervjuer med personer, som i sitt arbete kommer i kontakt med många företagssaneringar och som har bred erfarenhet i ämnet. Resultatet visar att det är viktigt att i varje enskilt fall överväga om företagssanering är det bästa sättet att lösa problemen på. Ofta ansöks om företagssaneringar för sent och krisen är då ofta redan ett faktum. Om företagare och företagsledningar skulle vara proaktiva och genast börja försöka åtgärda problemen kunde flera företag räddas. Att använda sig av frivilliga saneringsmetoder skulle ofta ge ett bättre resultat, än att vänta tills företagssanering som grundar sig på lagen eller konkurs är de enda alternativen som finns kvar.
Since 2008, the number of reorganizations of companies has almost doubled in Finland. This thesis will give the reader some insight to what underlies a reorganization, how a reorganization progresses and what kind of companies could be suitable for a reorganization. The goal is find out when a reorganization is a good solution to a company's financial problems and what factors affect how successful the reorganization is. The theoretical framework describes what the characteristics of an insolvent company are, the different stages of a reorganization and what kind of regulations there are in a reorganization plan. The central factors that affect the outcome of a reorganization according to the theory, are also mentioned. The empirical part consists of two interviews, both with persons who deal with reorganizations in their occupations and therefore have a large amount of knowledge on the subject. The results show that it is important to examine every case individually to decide whether a reorganization is the best way to deal with a financially troubled company's problems. Often companies reorganize too late and the crisis is then already unavoidable. If the entrepreneurs and leaders of companies would be proactive and immediately start trying to solve their problems more companies could be saved. Doing a voluntary reorganization could often give a better result than waiting to do something until a reorganization forced by the law or liquidation are the only remaining options.
Kokoelmat