Karelia University of Applied Sciences Quality Handbook
Auvinen, Pekka; Kallio, Ulla; Neuvonen, Lasse; Penttinen, Mikko (2013)
---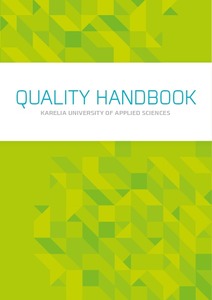 Auvinen, Pekka
Kallio, Ulla
Neuvonen, Lasse
Penttinen, Mikko
Karelia University of Applied Sciences
2013
Julkaisun pysyvä osoite on
http://urn.fi/URN:ISBN:978-952-275-092-1
Lähdeviite:
Auvinen P., Kallio U., Neuvonen L., Penttinen M., (2013). Karelia University of Applied Sciences Quality Handbook. , In: Publications of Karelia University of Applied Sciences B:15, Karelia University of Applied Sciences.
URN:ISBN:978-952-275-092-1
Tiivistelmä
Karelia University of Applied Sciences does not have a separate quality system, but the different elements of quality management are incorporated into the enterprise resource management and Intranet system of the institution. Thus, quality management is intended to be a natural part of the normal, daily activities of Karelia UAS.

The quality management of Karelia UAS is based on the Deming Cycle for continuous improvement (Plan, Do, Check, Act). In this model, planning, acting, evaluating and developing are repeated in cycles, aiming at ensuring continuous learning and development within the organisation. Furthermore, other key elements of quality management at Karelia UAS include external steering of operations, the strategic base of the UAS, and the management system.

This Quality Handbook describes the main operations of Karelia UAS. The contents of this handbook are organised according to the above-mentioned elements on quality management.
Kokoelmat