Theseusta huolletaan. Kirjautuminen on estetty ja järjestelmän uudelleenindeksoinnista johtuen arkistossa näkyy alkuun vähemmän töitä kuin siellä oikeasti on.
Application of ferric enriched biochar to capture N and P from greywater
Basnet, Mukesh (2015)
---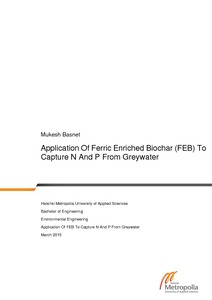 Metropolia Ammattikorkeakoulu
2015
All rights reserved
Julkaisun pysyvä osoite on
http://urn.fi/URN:NBN:fi:amk-201503123081
Tiivistelmä
A filtration test was carried out to study the nutrients (N and P) adsorption capacity of two types of biochar, i.e. the biochars from two different companies, Biolan Oy and RKP Hiili. Both biochars were used in two forms: pure and enriched with ferric sulphate (FS).

It is well known that nitrogen (N) and phosphorous (P) are the essential nutrients for the plant production; however if these nutrients are used in excessive amounts, they can leach to groundwater and streams polluting the fresh water sources. Eutrophication is one of the major threats imposed by excessive addition of these nutrients into freshwater sources. Apart from this, the use of N and P in the agricultural field is altering natural N cycle and P cycle, respectively. N cycle alteration is increasing nitrous oxide (N2O) gas in the atmos-phere, which is one of the greenhouse gases responsible for climate change. Likewise, P cycle alteration is decreasing natural P resources. Hence, this thesis is intended to extract N and P from greywater and trap these nutrients in carbon filtrate (biochar or FS enriched biochar), and after full utilization of the filtrate it can be used again for plant production. As a considerable number of studies have already proved the potentiality of biochar in plant pro-duction, the use of biochar or FS enriched biochar rich in N and P for the plant production can be one the pioneering technologies in the future. The major applications of this thesis work will be the utilization of dusty charcoal (biochar), which is considered as waste and is no longer used for BBQ, in the treatment of greywater, and the recycling of N and P to use them further in crop production along with biochar.

Greywater was made in the environmental laboratory of Helsinki Metropolia UAS., by add-ing a fertilizer named Yara Combi (14-11-25), which contains 14% N, 11% P and 25% K. The filtration test results showed that Biolan biochar enriched with FS was able to adsorb both nutrients N and P, especially P, in highly significant amounts. Likewise, FS enriched RKP biochar was found to adsorb only P in significant amount. However, pure biochar from both Biolan and RKP was not able to adsorb nutrients significantly. It was proved that the enrichment of biochar with FS had an effect on nutrient adsorption.
Kokoelmat