The role of family background, education and hobbies in student processes of becoming entrepreneurs
Römer-Paakkanen, Tarja (2009)
---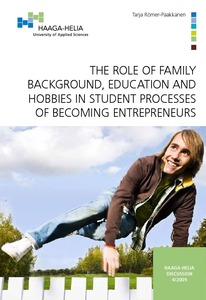 HAAGA-HELIA ammattikorkeakoulu
2009
Julkaisun pysyvä osoite on
http://urn.fi/URN:ISBN:978-952-5685-43-5
Lähdeviite:
Römer-Paakkanen T., (2009). The role of family background, education and hobbies in student processes of becoming entrepreneurs. , In: HAAGA-HELIA Publication Series. Discussion 4/2009, HAAGA-HELIA ammattikorkeakoulu.
URN:ISBN:978-952-5685-43-5
Tiivistelmä
This paper presents the results of focus-group interviews carried out among a group of students taking part in a pre-incubator program at their University of Applied Sciences. The study portrays the pre-incubator students' growth to entrepreneurship by examining what kinds of element influence in their process of becoming entrepreneurs. The practical aim of the study is to find answers of how to renew our entrepreneurial training programs so that they would better meet the needs of students at the Universities of Applied Sciences. The spirit of entrepreneurship among pre-incubation students arises in a triangulation process of life experiences, such as free-time activities and hobbies, entrepreneurship education, and socialization taking place in the family system. Counseling, coaching and mentoring are catalysts in the process of growth to entrepreneurship. This study strengthens the view that entrepreneurship education and training programs should be concrete and practical. Students should have the possibility to tailor their studies individually and create their own learning environments – this fact is even more important among those students who already possess a set of characteristics known as entrepreneurial spirit.
Kokoelmat