Charting Teachers' Perspective on Utilizing Distance Learning in Higher Education
Ålander, Heidi; Karukka, Minna (2016)
---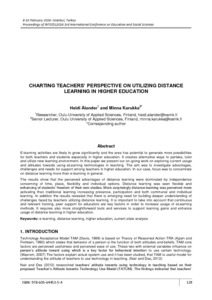 Ålander, Heidi
Karukka, Minna
Editoija
Uslu, Ferit
International Organization Center of Academic Research
2016
Julkaisun pysyvä osoite on
http://urn.fi/URN:ISBN:978-605-64453-5-4
Lähdeviite:
Ålander H., Karukka M., (2016). Charting Teachers' Perspective on Utilizing Distance Learning in Higher Education. Uslu F. (Ed).,
Proceedings of INTCESS2016 3rd International Conference on Education and Social Sciences
., International Organization Center of Academic Research.
URN:ISBN:978-605-64453-5-4
Tiivistelmä
E-learning activities are likely to grow significantly and the area has potential to generate more possibilities for both teachers and students especially in higher education. It creates alternative ways to partake, tutor and utilize new learning environment. In this paper we present our on-going work on exploring current usage and attitudes towards using eLearning technologies in teaching. The aim was to investigate advantages, challenges and needs for support among teachers in higher education. In our case, focus was to concentrate on distance learning more than e-learning in general. The results show that the perceived advantages of distance learning were dominated by independence concerning of time, place, flexibility and individual options. Distance learning was seen flexible and enhancing of students' freedom of their own studies. More surprisingly distance learning was perceived more activating than traditional learning increasing presence, participation and both communal and individual learning. In addition the results revealed that there is emerging need for building deeper understanding of challenges faced by teachers utilizing distance learning. It is important to take into account that continuous and relevant training, peer support for educators are key factors in order to increase usage of eLearning methods. It requires also more straightforward tools and services to support learning gains and enhance usage of distance learning in higher education.
Kokoelmat