Water Gaps Connecting Neighbours from Conflict to Co-operation by Applying Scarcity Index
Asheesh, Mohamed (2016)
---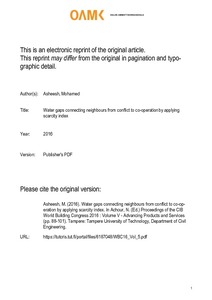 Tampere University of Technology, Department of Civil Engineering
2016
Julkaisun pysyvä osoite on
http://urn.fi/URN:ISBN:978-952-15-3745-5
Lähdeviite:
Asheesh M., (2016). Water Gaps Connecting Neighbours from Conflict to Co-operation by Applying Scarcity Index. ,
Proceedings of the CIB World Building Congress 2016 : Volume V - Advancing Products and Services
., In: Report / Tampere University of Technology, Department of Civil Engineering, Construction Management and Economics, Tampere University of Technology, Department of Civil Engineering.
URN:ISBN:978-952-15-3745-5
Tiivistelmä
According to the latest reports of United Nations, the biggest challenge facing the world at the present and in the next decades is water scarcity. Trans-boundary water resources from history to present either lead to cooperation or to confrontation and conflicts. For the last six decades, it has not been possible to solve the Arab-Israeli conflict, and the water issue has been raised as one of the keys for solving the conflict or having a successful discussion. The history of the water conflict in the Middle East began by the foundation of the Israeli state in 1948. Since that time Israelis have tried to secure the state water supplies using different water resources in the area. The rapidly growth of the driving forces (Nexus) has become a source of numerous conflicts with their neighbours. The whole area has suffered from water shortage and unsuccessful managing of the water resources. Palestinians, Israelis, Jordanians, Syrians and Lebanese are sharing the major part of their water resources, the Jordan River and the aquifer of the West Bank and Garza Strip being the main sources of water resources for Israelis and for the Palestinians. Dividing the land will not be a solution to water gaps. It is likely to make the situation even worse. Several methods and tools have been developed worldwide to assist the riparians to manage their own shared water resources, part of which are technical and other social -political methods. Scarcity index is one technical numerical method developed to assist the parties to allocate the shared water resources and to assist on recovering the water gaps. Based on the mentioned methods numerous agreements have been made and discussions have been held between the riparians to achieve peace and co-operation. Some of them have been implemented, the other remain open due to the political changes in the area.
Kokoelmat