Comparison of higher education student and teacher perceptions of e-learning
Pihlajamaa, Johanna; Karukka, Minna; Ålander, Heidi (2016)
---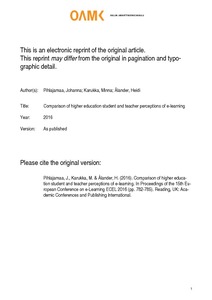 Pihlajamaa, Johanna
Karukka, Minna
Ålander, Heidi
Academic Conferences and Publishing International
2016
Copyright The Authors, 2016.
Julkaisun pysyvä osoite on
https://urn.fi/URN:ISBN:978-1-911218-17-3
Tiivistelmä
Currently e-learning is considered an essential part of the everyday learning processes for both teachers and students in higher education. However, the learning results of e-learning are under debate and there is a growing critique on the efficiency and actual results of e-learning. In this paper we present our on-going work for exploring higher education students and teachers recent perceptions of their e-learning experiences, the usage of e-learning technologies and developing the learning process. Two surveys were conducted in order to investigate and compare the perceived advantages, challenges and needs for support among the students and teachers in higher education. According to the results the perceived advantages of e-learning for both teachers and students were fairly similar. Flexibility in use of time and place were found as the most important benefit of e-learning. Some teachers conceived that e-learning was more activating than traditional learning in terms of increasing presence and participation. However, the results indicate that some of the students were not convinced about the activating advantages of e-learning. The main challenges in e-learning for both students and teachers dealt with technical issues, (i.e. non-functioning data connections and software) and teacher-student interaction. Both students and teachers also experienced problems in directing the learning situation (e.g. finding/raising motivation, taking possible learning hindrances into account). Teachers also highlighted the students¿ lack of commitment as a challenge in e-learning. Based on the studies we suggest that in order to ensure the high-quality learning results in e-learning continuous and relevant training and peer support for educators and students are needed. Additionally it is important to enhance the user experience and the content and materials of the courses should be designed carefully. We also suggest that in e-learning the interaction between teachers and peer students should be improved.
Kokoelmat