Transcriptomic Complexity of Aspergillus terreus Velvet Gene Family under the Influence of Butyrolactone I
Palonen, Elina; Raina, Sheetal; Brandt, Annika; Meriluoto, Jussi; Keshavarz, Tajalli; Soini, Juhani (2017)
---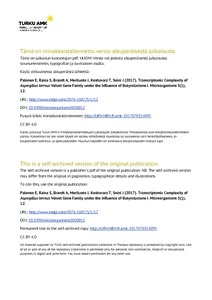 Palonen, Elina
Raina, Sheetal
Brandt, Annika
Meriluoto, Jussi
Keshavarz, Tajalli
Soini, Juhani
MDPI AG
2017
Julkaisun pysyvä osoite on
http://urn.fi/URN:NBN:fi:amk-2017070314095
Lähdeviite:
Palonen E., Raina S., Brandt A., Meriluoto J., Keshavarz T., Soini J., (2017). Transcriptomic Complexity of Aspergillus terreus Velvet Gene Family under the Influence of Butyrolactone I. , MDPI AG.
doi:10.3390/microorganisms5010012
Tiivistelmä
Filamentous fungi of the Ascomycota phylum are known to contain a family of conserved conidiation regulating proteins with distinctive velvet domains. In Aspergilli, this velvet family includes four proteins, VeA, VelB, VelC and VosA, and is involved in conidiation and secondary metabolism along with a global regulator LaeA. In A. terreus, the overexpression of LaeA has been observed to increase the biogenesis of the pharmaceutically-important secondary metabolite, lovastatin, while the role of the velvet family has not been studied. The secondary metabolism and conidiation of A. terreus have also been observed to be increased by butyrolactone I in a quorum-sensing manner. An enlightenment of the interplay of these regulators will give potential advancement to the industrial use of this fungus, as well as in resolving the pathogenic features. In this study, the Aspergillus terreus MUCL 38669 transcriptome was strand-specifically sequenced to enable an in-depth gene expression analysis to further investigate the transcriptional role of butyrolactone I in these processes. The sequenced transcriptome revealed intriguing properties of the velvet family transcripts, including the regulator laeA, and uncovered the velC gene in A. terreus. The reliability refining microarray gene expression analysis disclosed a positive regulatory role for butyrolactone I in laeA expression, as well as an influence on the expression of the canonical conidiation-regulating genes under submerged culture. All of this supports the suggested regulative role of butyrolactone I in A. terreus secondary metabolism, as well as conidiation.
Kokoelmat