Towards professionalism in music : self-assessed learning strategies of conservatory music students
Virkkula, Esa; Nissilä, Säde-Pirkko (2017)
---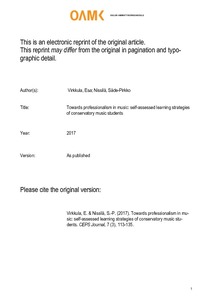 Virkkula, Esa
Nissilä, Säde-Pirkko
Faculty of Education, University of Ljubljana
2017
Julkaisun pysyvä osoite on
http://urn.fi/URN:NBN:fi:amk-2017101215980
Lähdeviite:
Virkkula E., Nissilä S., (2017). Towards professionalism in music : self-assessed learning strategies of conservatory music students. , Faculty of Education, University of Ljubljana.
URN:NBN:fi:amk-2017101215980
Tiivistelmä
One of the current spearhead projects in Finnish education is learning
to learn. Learning strategies have been examined from a variety of perspectives.
They are policies that either promote or hinder learning. They
are any behaviours or thoughts that facilitate encoding in such a way that
knowledge integration and retrieval are enhanced. Strategies can be practiced
and learnt.
Direct and indirect learning strategies formed the model of defining music
students' self-assessed learning habits in this research. The strategies
dealt with here are memory, cognitive, compensation, metacognitive, affective
and social strategies. Critical thinking strategies as well as deep and
surface learning strategies were also observed.
In this paper, a theoretical background and methodological solutions will
first be presented. A significant finding comes from cross-professional
collaboration of students, teachers, and professionals during the research
period: it enhanced the use of strategies. Another finding, the profitable
use of the workshop method, can be adopted by other fields of learning
and make processes flexible and fruitful.
Eden izmed trenutno vodilnih projektov na področju vzgoje in
izobraževanja na Finskem je učenje učenja. Učne strategije so preučevali
z različnih perspektiv. Odločitve šolske politike lahko bolj ali manj
spodbudno vplivajo na učenje. Gre za vedenje ali razmišljanje, ki spodbuja
integracijo znanja in razvijanje spretnosti učenja. Učne strategije
lahko vadimo in se jih lahko naučimo. V okviru te raziskave so neposredne
in posredne učne strategije sestavljale model samoocenjevanja
učnih navad študentov glasbe. Strategije, s katerimi smo se ukvarjali, so
bile: spominske, kognitivne, kompenzacijske, metakognitivne, afektivne
in socialne. Opazovali smo strategije kritičnega mišljenja pa tudi globinske
in površinske učne strategije. V prispevku najprej predstavljamo
teoretična ozadja in metodološke rešitve. Pomembna ugotovitev izhaja
iz medsebojnega sodelovanja študentov, učiteljev in strokovnjakov v
obdobju trajanja projekta, ki je pripeljalo do pogostejše uporabe učnih
strategij. Tovrstno delavniško delo je mogoče koristno prilagoditi tudi za
spodbujanje fleksibilnega in učinkovitega učenja na drugih področjih.
Kokoelmat