Alendronate-induced disruption of actin cytoskeleton and inhibition of migration/invasion are associated with cofilin downregulation in PC-3 prostate cancer cells
Virtanen, Sanna S.; Ishizu, Tamiko; Sandholm, Jouko A.; Löyttyniemi, Eliisa; Väänänen, H. Kalervo; Tuomela, Johanna M.; Härkönen, Pirkko L. (2018)
---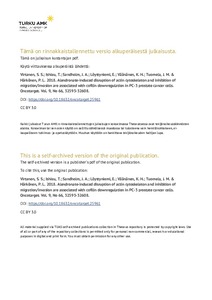 Virtanen, Sanna S.
Ishizu, Tamiko
Sandholm, Jouko A.
Löyttyniemi, Eliisa
Väänänen, H. Kalervo
Tuomela, Johanna M.
Härkönen, Pirkko L.
Impact Journals
2018
Julkaisun pysyvä osoite on
http://urn.fi/URN:NBN:fi-fe202003198566
Lähdeviite:
Virtanen S., Ishizu T., Sandholm J., Löyttyniemi E., Väänänen H., Tuomela J., Härkönen P., (2018). Alendronate-induced disruption of actin cytoskeleton and inhibition of migration/invasion are associated with cofilin downregulation in PC-3 prostate cancer cells. , Impact Journals.

Tiivistelmä
Bisphosphonates are used for prevention of osteoporosis and metastatic bone diseases. Anti-invasive effects on various cancer cells have also been reported, but the mechanisms involved are not well-understood. We investigated the effects of the nitrogen-containing bisphosphonate alendronate (ALN) on the regulation of actin
cytoskeleton in PC-3 cells. We analyzed the ALN effect on the organization and the dynamics of actin, and on the cytoskeleton-related regulatory proteins cofilin, p21-associated kinase 2 (PAK2), paxillin and focal adhesion kinase. Immunostainings of cofilin in ALN-treated PC-3 cells and xenografts were performed, and the role of
cofilin in ALN-regulated F-actin organization and migration/invasion in PC-3 cells was analyzed using cofilin knockdown and transfection. We demonstrate that disrupted F-actin organization and decreased cell motility in ALN-treated PC-3 cells were associated with decreased levels of total and phosphorylated cofilin. PAK2 levels were also lowered but adhesion-related proteins were not altered. The knockdown of cofilin similarly impaired F-actin organization and decreased invasion of PC-3 cells, whereas in the cells transfected with a cofilin expressing vector, ALN treatment did not decrease cellular cofilin levels and migration as in mock transfected cells. ALN also reduced immunohistochemical staining of cofilin in PC-3 xenografts. Our results suggest that reduction of cofilin has an important role in ALN-induced disruption of the actin cytoskeleton and inhibition of the PC-3 cell motility and invasion. These data also support the idea that the nitrogen-containing bisphosphonates could be efficacious in inhibition of prostate cancer invasion and metastasis, if delivered in a pharmacological formulation accessible to the tumors.
Kokoelmat